2022 GMC Sierra Release Date, Price & Trim Levels
Get ready for a refresh, the 2022 GMC Sierra is coming soon. No matter if a Sierra has been your faithful work companion for over a decade or if you've just discovered all that this truck has to offer, the upcoming updates and changes are well worth looking forward to. At a glance, for those unfamiliar with it, our GMC model research will give you a full rundown on this truck. In general, though, the GMC Sierra acts as the higher-end, more tech, and feature-packed cousin to the Chevrolet Silverado. From its introduction in the '60s and onward, this has been the role it plays, and one that it plays perfectly.
Introduced in 2019, the fourth generation of the Sierra brought with it great modern features, a premium interior, and all the practicality you need to get the job done. Now, the latest facelift is on the horizon and is set to bring with it even more competitive features, design, and overall style to the capable truck. If you want to know how this luxurious and rugged truck stacks up to the competition, then check out our GMC Sierra vs. Ford F-150 comparison to learn more.
You probably already trust and love a Sierra of your own, though, so read on to see the 2022 GMC Sierra release date, update details, and more. If you're interested in taking home a new GMC Sierra, contact us for more details and set up a test drive today.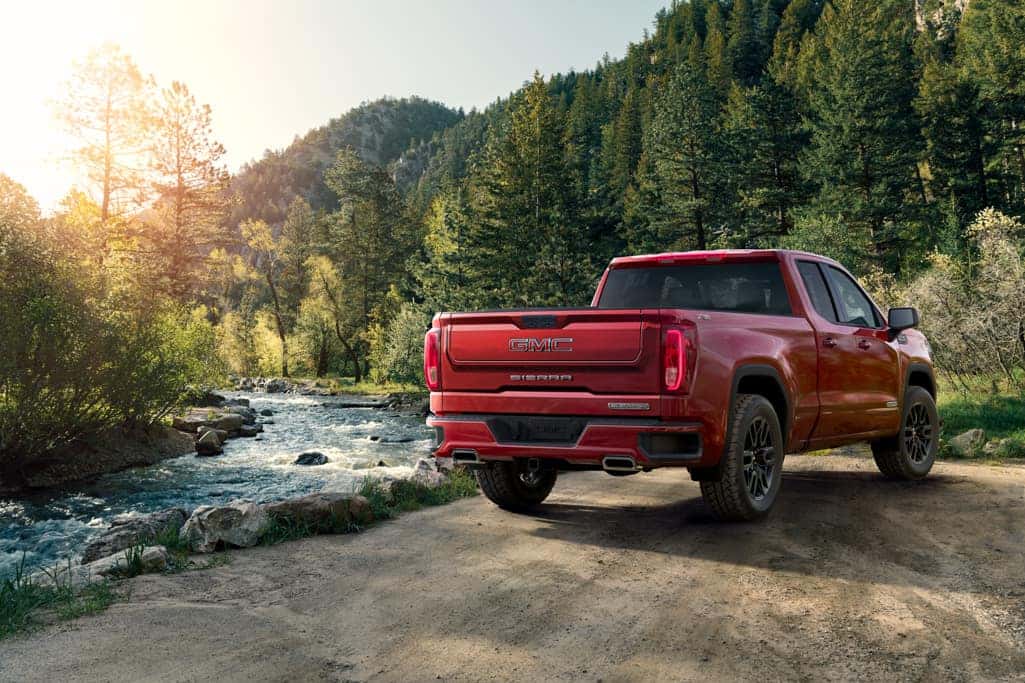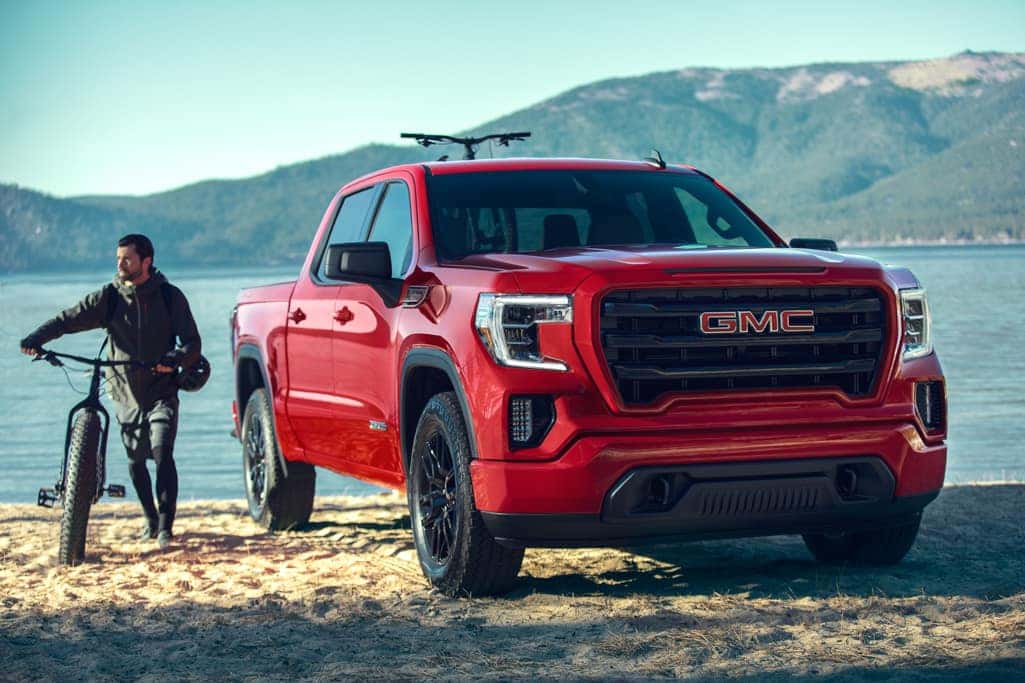 The 2022 GMC Sierra, at a Glance
Most updates are focused on the 2022 GMC Sierra 1500, and the heavier duty models will receive lighter changes. Past and current model years already had some good looks to them, and the 2022 GMC Sierra is expected to take it further with a new exterior design. This will mainly involve a new front and rear fascia, new wheels, as well as new paint colors. This is exciting news, but the bulk and best of the changes revolve around the interior.
New Interior, New Tech
Expected to offer an all-new interior, the 2022 GMC Sierra is poised to bring awesome new designs and technology to the table. A comprehensive update based on what we know, the 2022 GMC Sierra Interior is set to offer some sweet upgrades.
These upcoming updates are said to include the following features: a bigger optional sun/moonroof, a new dashboard design, a new center stack design that includes a larger screen, a new center console design, a new gauge cluster, and an option of a fully digital display, updated interior storage, and discontinuation of a column shifter being offered.
Arguably better than design updates, the 2022 GMC Sierra is also said to offer GM Super Cruise, which delivers cutting-edge semi-autonomous driving capabilities. In addition to these, a unique windscreen infotainment system, Google Android Automotive operating system, and many more tweaks are expected to accompany the update. Whether it's the overall design, chrome-lined buttons, or the ability to tow in semi-autonomous mode, there's a lot to be excited about inside with the 2022 GMC Sierra.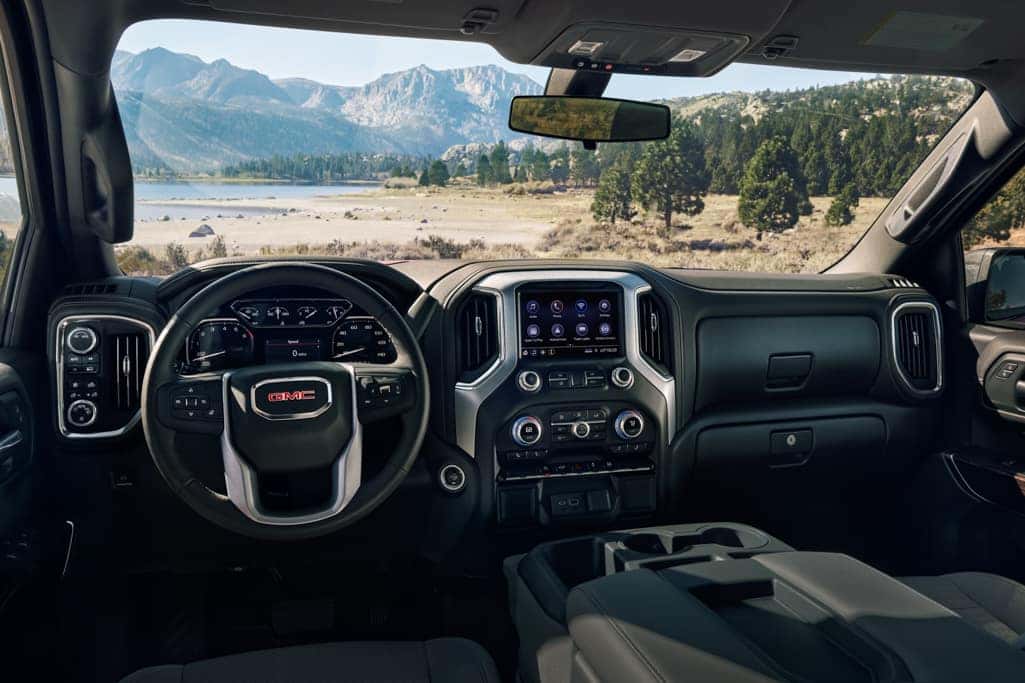 Frequently Asked Questions
What is the 2022 GMC Sierra release date?
To be frank, we don't have an exact 2022 GMC Sierra release date for you, as one has not been officially specified as of yet. We know, though, that the 2022 GMC Sierra is expected to debut in the third quarter of 2021, so check back in late July for more details and availability. Similarly, we don't have an official 2022 GMC Sierra price, but we expect it to be in line with the current Sierra model year's pricing scheme.
How much can the 2022 GMC Sierra tow?
Similar to the release date and pricing, what we know about the 2022 GMC Sierra towing capacity is mostly an estimate based on expectations. What we do know precisely is the specific 2021 GMC Sierra towing capacity. For the current Sierra 1500, a maximum tow rating of 12,100 lbs and payload capacity of 2,240 lbs is capable when equipped with certain engine and drivetrain options. While we can't confirm beyond a shadow of a doubt, the 2022 Chevrolet Silverado is said to be getting a newer, beefier suspension setup in the back. So, a tow rating increase is possible for the 2022 GMC Sierra — but check back at a later date to see if has been confirmed.
What trim levels are available for the 2022 GMC Sierra?
Just like the 2021 Sierra, the new model will come in a range of trims. While we can't confirm specifically, we can expect to see many of the trim levels and their purpose to carry over. When a 2022 GMC Sierra Denali hits our lots, you can expect to see the same focus, range-topping interior, luxury, tech, and exterior utility features. For the 2022 GMC Sierra AT4, expect to see the same focus on off-road lifted 4×4 capabilities with plenty of power and rugged exterior touches. A step up from the base model, a 2022 GMC Sierra Elevation will offer you a great blend of tech, luxury, and features for your money.
Will the 2022 GMC Sierra be getting a redesign?
Yes. While many details are still under wraps, we can confirm that the 2022 GMC Sierra will introduce a new design to both the interior and exterior of the truck. We can also confirm that it will be well worth waiting for, thanks to new tech like the expected addition of GM Super Cruise semi-autonomous driving, as well as a fresh, thoroughly modern style.